Teach a game project with a coach
- primary grades
You want to start teaching coding but don't know how? Already did some Scratch coding but want to do a proper project? This course is for you. You will learn to teach the basics of coding via project-based learning approach. The project is a maze game that students code with a popular graphical programming environment Scratch. The project is best suited for 3rd to 6th grade students.

This course suits teachers who have no or little experience with coding.

This course provides:
Three online webinars that you can attend on schedule or watch the recordings on your own time.

Self-study course materials.

Handy downloadables to use in the classroom.

A chance to network with other teachers in other countries.

One-to-one coaching with an experienced Finnish teacher trainer.

Format
Online
Course with live webinars and 1:1 coaching
Starting date
Thursday 13th October
at 6 PM (GMT+3)
Author
Code School Finland
Materials
Student Book
Teacher Manual
Slides
About the course
During this course you will learn how to best teach your students the basics of coding. You will learn to conduct
a game project
and have the students code a maze game in a graphical programming environment called
Scratch.
The course contains
handy downloads
for the project: a Student Book with appropriate tasks, slides to show during class and a Teacher Manual with correct answers and instructions. You can download the materials and use them digitally or as print copies.
Besides studying the materials online, you will participate in
three live webinars
where you have a chance to
network with peers
and ask questions. Recordings of the webinars are also available afterwards if you are not able to attend them live.
No prior coding experience is required
to join this course. If any questions come up in between the webinars you can always contact Code School Finland experts who will help you.
No special hardware or software is required.
You will only need a computer with Chrome browser or a tablet to participate.
You will receive a
certificate of completion
at the end of the course that affirms your newly acquired skills.
High quality teaching materials
The course provides a Student Book, a Teacher Manual and slides to use during class. These materials introduce coding concepts in a logical order that supports learning in an optimal way.
You can print out the materials or use them digitally. The Student Books work well for online learning too.
Live webinars for instructions
During three live webinars you will join online with an experienced and friendly Code School Finland teacher trainer. They will take you through the materials. You will receive instructions on how to use the teaching materials, have a chance to ask more information and share your experiences with other participants.
One-to-one coaching available
If you encounter any problems with coding or with the course materials, you can contact Code School Finland instructor. No question is too big or small to be discussed with your co-teacher. We can chat online or even set up additional online calls to discuss. Together we will run this project with great success.

What is required from you?
Computer with Chrome browser or a tablet

Attend or watch three 90 minute live webinars.

~6 hours study time in total

Study the online course.

6 x 45 minute lessons with your students

Conduct the lessons with your students

A positive mindset

Fill out a learning diary.
Hi, My name is Maria and I teach sixth graders in Penang Malaysia. I've tried studying coding with online tutorials before but I've always run into problems and quit. Also I've never been quite sure what I need to study to be able to teach my class the right things. This course got me started. It was the support I needed to start teaching my class and more! I especially appreciated the possibility to talk to a real person whenever I had challenges. It really felt like having a co-teacher in my class. Thank you Code School Finland!
Maria
6th grade teacher, Penang Malaysia
Course Schedule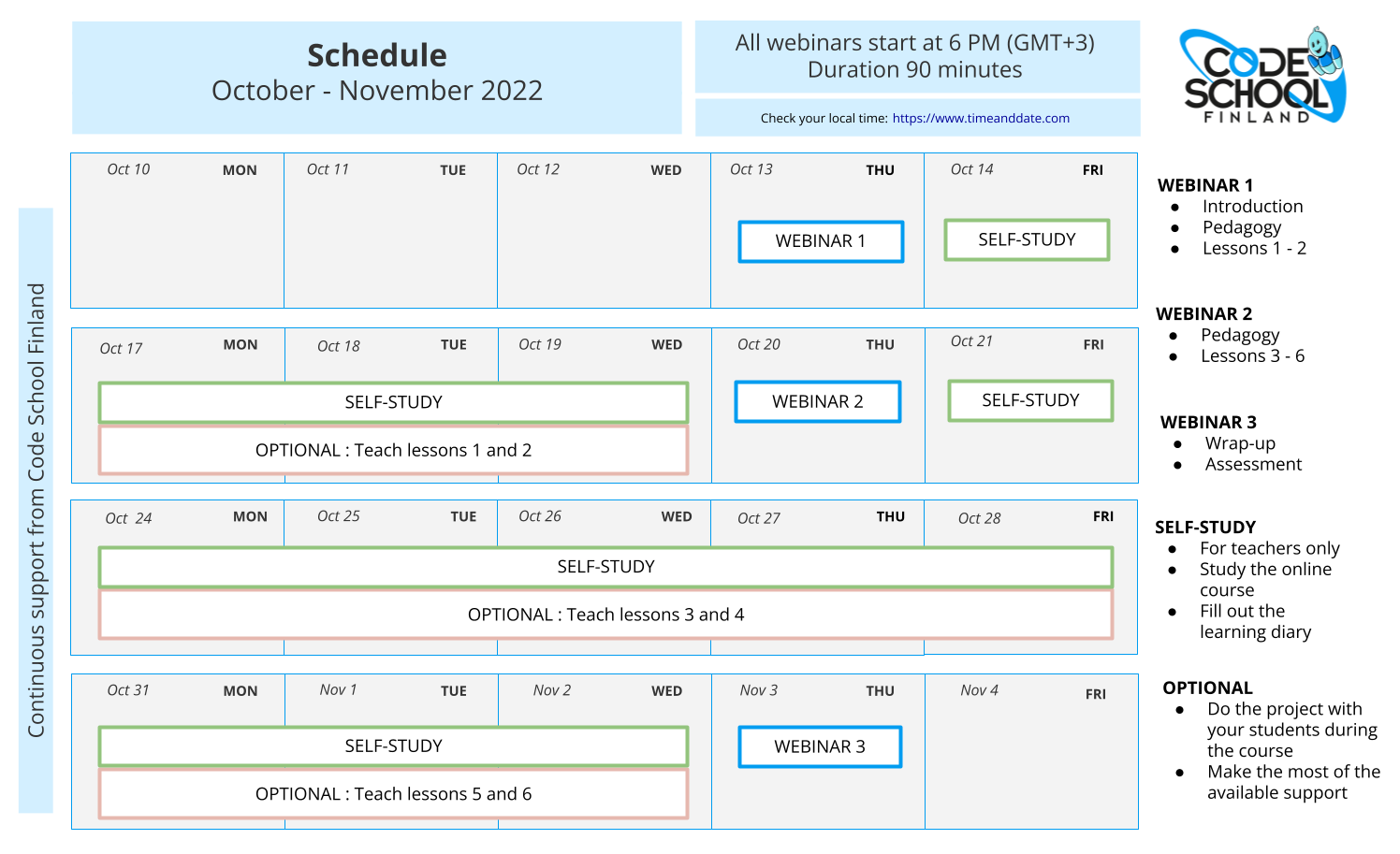 Sample Student games
Here are some examples of Maze games that students have created before. Click the green flag to play the maze. Then click Start and drag the object through the maze with the mouse without hitting the maze wall. If it says game over, you hit the maze wall. You can retry by clicking the green flag again.
Still not sure whether to attend?
Sign up for a FREE online information session. During the information session you get to hear more about the content, meet the instructors and ask questions.
Signing up for the info session does not bind you to anything.
Select a session suitable for you:
Thursday 22nd September at 6 PM - 6.30 PM (GMT+3)
Thursday 29th September at 11 AM - 11.30 AM (GMT+3)
Tuesday 4th October at 6 PM - 6.30 PM (GMT+3)
Check your local time:
https://www.timeanddate.com
The information session will be in Google Meet. You will receive the link for the session after submitting the sign up form.
Support available on this course
We are Code School Finland trainers and available to help you with any challenges during your teaching of the project. No question is too silly! No worry is too small!
You can chat to us online or we can book an online call.
Sirkku Tahvanainen
Teacher trainer, code teacher
Meaningful conversations create motivational atmosphere for learning. Positive thinking and attitude are contagious.
Jussi Koivisto
Master trainer, code teacher
Learning is about adapting to change, learning about ourselves and building our own motivation to develop ourselves.
Megumi Iwata
Teacher trainer, code teacher
Collaborating with people from different countries is the best source of creativity and inspiration. And more importantly, it's fun to learn together!
Frequently asked questions
How long will the course take?
The course will take three weeks. It will start on October 13th and end on November 3rd.
The course costs 89 €. This single payment is all that you will pay.
What language skills do I need to join this course?
All teaching and materials are in English.
Scratch
is available in multiple languages. To change the language of the programming blocks, click on the "globe" icon in the top navigation bar of the programming editor, then click on the dropdown menu to select a language.
Will I earn a certificate?
Yes, you will receive a certificate of completion at the end of the course that affirms your newly acquired skills.
To whom is this course for?
This course is designed for teachers with no prior knowledge of coding or teaching coding. The course materials are best suitable for primary grades.
I bought the course but didn't receive any emails. What to do?
The processing of the payment might take few days. Please check your email later again. If there is still no email from us, please contact
info@codeschool.fi
. Also, please check your spam email folder, just in case the email has landed there.
Do I get access to the full course at the beginning or is there a time-based delivery?
There is a time-based delivery to ensure that learning happens at a comfortable pace. You will get access to the first set of materials on October 13th.
I'm not able to teach my students with the course materials while taking this course. Is that a problem?
That is not a problem. You will have the downloadables after the course too so you can teach your students anytime after the course.
How does the 1:1 coaching happen?
The 1:1 coaching will take place in one 30 minute video call which you can book to a suitable date and time. In the online course there are detailed instructions for making the booking. Besides this video call coaching, you can also contact your Code School Finland coach via email if you have questions during the course. There is no upper limit to the amount of emails. You can of course send as many emails as you have questions!
The time of the course is not suitable for me. Do you have other courses starting later?
Yes, we will have similar courses in the future too. Please subscribe to our newsletter and social media channels to stay updated about our future courses. Also check out our online courses that you can study at your own pace. For example
https://courses.codeschool.fi/course/coding-at-art-lessons
is an excellent course for beginner code teachers.
What devices or programs do I need to take this course?
You will be using a web browser (such as Chrome) with which you will access the programming environment Scratch. Scratch is free of charge. There is no need to download any programs to your computer.
I don't have great mathematical skills and I don't like computers that much... is it possible for me to learn coding?
Even if you don't enjoy coding, you will be able to learn enough to be able to teach it. You don't need to become an expert in coding. This course is more about teaching coding than learning to code. We guarantee that all teachers are able to teach coding with the right pedagogy and good quality resources.
I'm not able to attend all the live webinars. Is that a problem?
The live webinars will be recorded and the recordings will be sent to all participants so there is no need to attend them live.
Created with